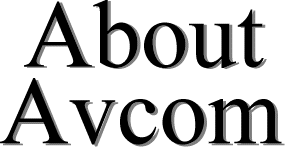 ---



AvCom, Inc. is located in Scituate, MA, approximately thirty miles south of Boston. The company was incorporated in May of 1996. Currently there are four employees. Coverage for most product lines is limited to the six New England states: Maine, New Hampshire, Vermont, Massachusetts, Rhode Island and Connecticut. AvCom is a member of the Electrical Equipment Representatives Association (EERA). We are also members of three regional trade organizations, the Energy Council of the Northeast (ECNE), the Northeast Public Power Association (NEPPA) and the New England Water Works Association (NEWWA).

Fred Avila is the owner and outside salesmen for the company. He has a Bachelor of Science degree from Roger Williams College. Fred has been selling in the electric utility industry for more than twenty years. Originally entering the business as a District Manager for E.J. Brooks Company, he was National Sales Manager for Aptech, Inc. and Automated Micro Systems and President of Stohn Associates, Inc. before starting his own company.

Martin Avila joined AvCom in September of 2003. He has a Bachelors of Science in Computer Engineering from Georgia Tech. Before joining AvCom he worked as a Software Engineer at Noah Industries in Melbourne, FL. Martin is the Inside Sales Engineer.

AvCom is dedicated to serving the electric utility industry throughout the six New England states. We feel that deregulation and consolidation in this industry creates tremendous opportunity. In order to take advantage of this opportunity we believe that we must be a solutions provider. It is not enough today to be a sales company. Because all of our customers and principals are looking for a total answer to their problems we believe we are the solutions company.
AvCom, Inc. 4 Brook St. P.O. Box 333 Scituate, MA 02066 Phone: 781-544-3924
---